I have a button for those that are posting to our WIKI- if you have added stuff to our WIKI. Let me know what you think of the look/size. For those that are contributing, just copy the html code in the box and paste on your blog or website!
I recently received a couple of blogging awards that I would like to mention:
The first one is from
Eva
- an incredible blogger over at
Handmade Beginnings
. She presented me with the Awesome Award-
and I have to mention 7 things that make me Awesome (I should be saying Awe-summm but I had to correct the spelling while I typed- theres my OCD and spelling teacher coming through):
1. I make awesome lessons plans for my daughter (thanks to all the help from you!)
2. I have an awesome family that I love to pieces and fortunately they love me back!

3. I can make awesome homemade chicken pot pie

4. I have an awesome playroom/learning center for my daughter
5. I have an awesome rock collection from back in the day when I was going to be a geologist
6. My husband and I play awesome piano duets

7. I am an awesome dvd/ video editor! I just wish I had more time to do it!
Now I get to share this award with 7 awesome bloggers!
1.
Orange Juice
2.
ABC and 123
3.
No Time for Flashcards
4.
This sweet life of ours
5.
The Fifth Street Palace
6.
The Activity Mom
7.
Superheroes and Princesses
The second award comes from my pal Jen over at Three Scoops of Chaos: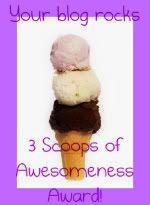 I would like to pass this award to
Mozi Esmé
- she has an amazing blog that is so much fun to read!
THANKS for all that love and recognition!! It feels good to get a pat on the back sometimes!!
Happy Teaching and Wiki-ing!!! :)